Summary
Easily create captivating courses! No need to waste time on formatting content in separate confluence pages, images, or working with macros. Learners can subscribe and follow at their own pace several courses based on their topic of interest. The user friendly player interface will captivate learners through their learning journey.
Simple Course editor
Thanks to an intuitive interface, create your course structure, sections, interactive content, videos, questions. In a few clicks import confluence pages, images and embed interactive web content.
Course catalog and intuitive Player
Explore the course catalog, a centralized one stop shop to access your training materials. By a simple click search and find courses and exams. Launch your favourite course and enjoy the Smart Courses player.
Metrics and reporting
Track learners activity and assess their individual learning progression. Thanks to intuitive dashboards, visualize key indicators such as success rate, scores, course completion rate and much more!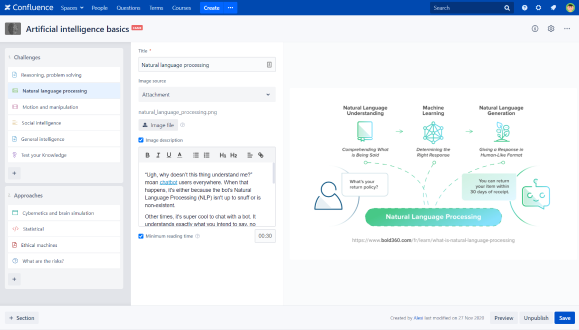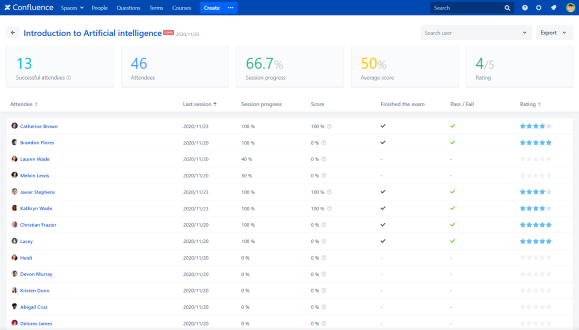 More details
Easily create captivating courses within Confluence! No need to install a standalone LMS. Use Smart Courses for:
Employee Onboarding and HR operations
Assign courses for continuous learning and knowledge assessment
Track the learning curve of attendees
Exam and certification
Key Features:
Create and share courses and exams
Co-Design courses with your peers
Import Confluence pages
Create Quizz Questions with predefined and open answers
Link or attach Images, Videos, Audios and PDFs
insert YouTube, Vimeo, Streamable, Vidyard, Wistia and much more
Embed Code such as PREZI, Slideshare or any enriched content
One stop shop Training catalog
Easy search, filtering and bookmarking capabilities
Launch course sessions and follow at your own pace
Modern full screen course player
Comprehensive course metrics to track learners progression and success rate
App and courses permission management
User dashboard and course assignment
Anonymous user access
Available in 24 languages
Smart Courses for Confluence - LMS | Atlassian Marketplace
Documentation

CCDC

https://confluence.delco.community/display/CCDC/courses/all?difficulty=0&sort=PUBDATE&sortType=DESC&section=ALL