Summary
Industry grade end-to-end encryption
Store and share sensitive data with end-to-end encryption. Data is encrypted and decrypted at the client-side, hence no unsecured data is transferred or stored in the server.
Share and restrict access to sensitive information
Restrict access to confidential information by leveraging Confluence users and user groups.
Improve compliance with centralized audit logs
View centralized audit logs showing who has accessed, created, modified, attempted and deleted the secretes, all at the fingertips of the administrators.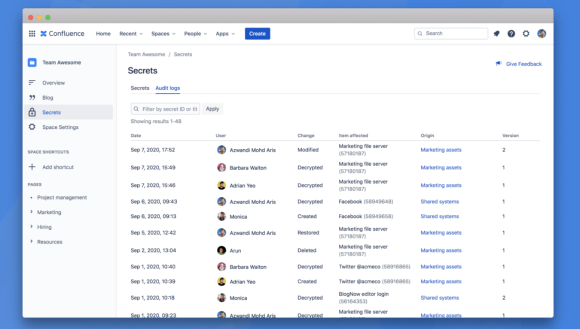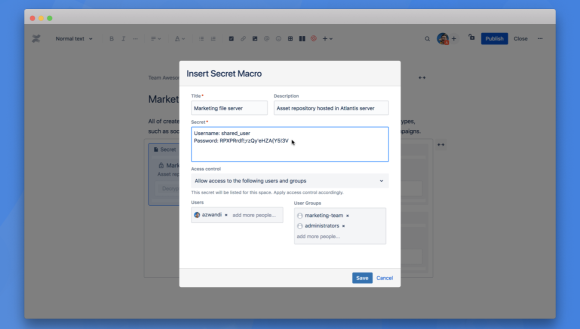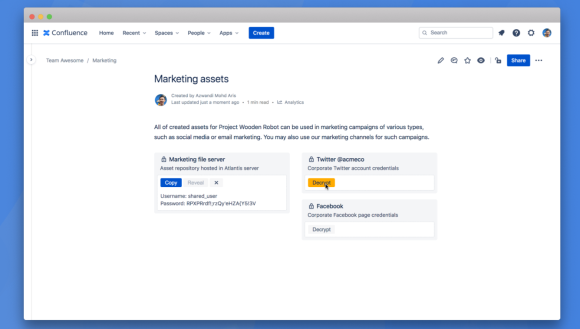 More details
Securely store and share sensitive information, passwords, credit card information, software license keys, corporate account details in Confluence.
Benefits:
Assist with compliance audits for SOC 2, SSAE 16, PCI, HIPAA, zero trust
Provide users a secure tool to share and collaborate on sensitive data
Reduce the risk of passwords being shared openly
Leverage Confluence's user and group management to manage access
Key features:
Macro to store sensitive data using industry grade, end-to-end encryption with PGP, AES-256 and other security measures
Restrict access by specific groups or individuals
Centralized list of all secrets belong to the space
Centralized audit logs to track who created, modified, accessed, attempted, deleted the secrets
Usage insight to track most accessed and stale passwords. Find out who decrypts the most secrets
Easy copy-to-clipboard button
Use cases:
Corporate password manager
License keys repository
Information Security Policy
Asset management
Security and Encryption for Confluence | Atlassian Marketplace
Documentation