Content Formatting Macros
Summary
Customise and structure Confluence content
Improve the structure and design of pages with our clever Confluence macros. Separate content using Tabs for better navigation and tidy up content with the Buttons Group and Tooltip macros
Quick and easy in-app onboarding for ALL users
Discover how easy it is to start creating better confluence content with our in-app homepage. See all the macros in action, recent updates, access to content and support all in one place!
Visual macros for beautiful Confluence pages
Use the Card and Buttons macros to highlight important content and hyperlinks. The powerful range of customisations helps to create user-friendly, beautiful Confluence pages for better engagement.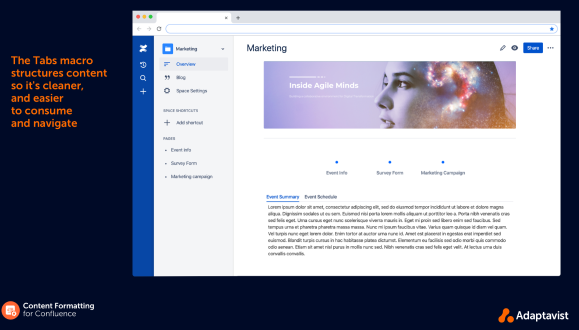 More details
Effectively managing, displaying and interpreting content is key to your team's success. This suite of easy-to-use Confluence macros gives you the ability to create better, more engaging content.
Macros include:
We're committed to adding the most valuable macros for our users. Make a suggestion, view the status and vote on macros currently in development.
Content Formatting Macros for Confluence | Atlassian Marketplace
Documentation
https://docs.adaptavist.com/cfm4cc/latest